I tested this darling handbag from Imazz Patterns that is called
The Girl Next Door.
I love the shape of this bag and Imazz always seems to add a little surprise element to her bags which with this bag is a hidden zippered pocket in the front of the bag. I made this bag with polka dots in black and white. I love it! You can purchase the pattern at Imazz's
Craftsy Store
or
Etsy Store
for the intro price of
only $4.99!
The regular price of this pattern is $7.50. The intro price is good through
March 15
, so get it now while this price is lower. It's a fairly easy bag to sew and yields fabulous results.
If you would like to purchase this Handbag from me the price is
$35.00
plus postage.
SOLD!
Email me
.
Here she is without anything inside of her. She's hungry!
After swallowing up my necessary things, she looks a little more rounded in her tummy, lol!!!
She has a nice curved belly with my things inside.
Looking inside the bag, you can see some of my stuff. While I do have another eyeglasses case and wallet and a few other items in there, they are underneath what you can see here. Believe me there is a lot of things in this bag and yet she doesn't look too full.
Little closer look and you can see I added a twist lock closure instead of the magnetic snap. That is the only change I made to her. Imazz shows adding a decorative button to the outside of the bags that she made, which adds a nice touch.
Wondering where that secret zippered pocket is? Right here under the middle accent strip. It's a large pocket too. I placed my small notebook (I made a fabric cover for my notebook that also holds my pens) inside of this front pocket. She is all ready to go to town!



Here is Imazz's Girl Next Door: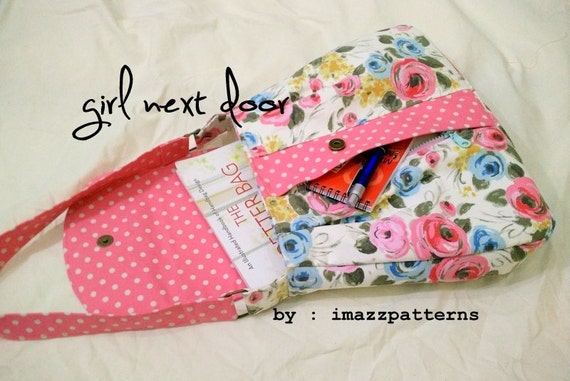 Pin It Now!