I made this cute quilt along with my applique group. We each made the same quilt putting our own touches on it. We started with the Amy Bradley pattern called
Everyday is a Shopping Day.
Instead of adding those words (the title of the pattern), I chose my own saying and chose my own font too. I call my quilt, "
I am a Material Girl"
, which I thought was a cuter play on words for this quilt.
I reduced the pattern to make her a bit smaller. Some of the ladies in our applique group made theirs the original size and some the reduced size. I started my quilt by using some scraps of white and cream that I sewed together to make a background. Then I stitched down the applique and added my wording, border and quilted it. I also added some embellishments. I had an iron wall decor piece I got at Hobby Lobby quite a while ago and it was the perfect size to use for my quilt. I sewed a couple of grosgrain ribbon tabs around the iron decor piece and to my quilt and hung her up that way.
Hanging on the wall in my sewing room
I entered this quilt into a contest too at PatternReview.com I came in 3rd place, but there were only prizes for 1st and 2nd place. I had more comments posted about my quilt than the winners had (at least at that time) and they were all so sweet what they said. I love my quilt and it is hanging up in my sewing room.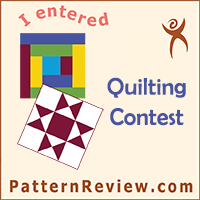 I added a different necklace. It's a button with a crystal glued to it.
Her dog is carrying a bundle of Fat Quarters!
Taking this photo in the sun, shows the quilting more.
I hope you enjoyed seeing my quilt.
Pin It Now!